Central Florida is home to some of the best crystal-clear water springs in the state. These natural springs are real Florida gems and often overlooked by tourists, myself included until recently. With over 800 in the entire state, it's easy to find one to visit. The hard part is picking which one to choose first.
This guide covers some of the most beautiful springs in Central Florida, and some popular things to do in each. So, take a break from the theme parks, shopping malls and famous coastlines, and check out some of these natural beauties for the day near Orlando. There is also a Central Florida Springs Map to help you plan a trip.
Natural Springs Near Tampa
Rainbow River & Springs, Dunnellon
Enjoying this spring is easy. Whether you like swimming, diving, hiking, kayaking or tubing, the activity options are endless. The Rainbow Springs State Park features waterfalls, hiking trails and swimming areas. The headsprings have some of the most beautiful crystal-clear waters, so naturally, there are plenty of diving spots along this part of the river too. Wildlife also thrives in the area, so be on the lookout for all kinds of birds, fish and reptiles.
In the summer months, the Rainbow River is also one of the most popular spots for tubing. It is a natural lazy river and the perfect place to relax, float, swim and cool down from the Florida heat. I'm planning to return and experience tubing for myself. However, the park often reaches capacity, so arrive early to secure a spot on the river. During our first visit, we decided to enjoy the park by kayak.
Kayaking on Rainbow River Springs
Getting on or in the water is a must-do activity at Rainbow Springs. We rented kayaks from a local company called Rainbow River Kayak Adventures. They have a parking area and shuttle service that launch visitors from the KP Hole area of the river. They have a collection point at the end of the paddle by Swampy's Bar and Grille, a local favourite.
From the KP Hole launch area, there are two paddle options. Take a right and head downstream towards the collection point, or take a left towards the headsprings. We decided to take a left and paddle upstream towards the headsprings. This option adds around an hour to your overall paddle time. Although you're paddling against the current to start with, the reward is worth it. The water is crystal-clear, and the actual headsprings are visible. We then paddled back the way we came, passing by our entry point and continued towards the collection area by Swampy's. Overall, we were on the water for around 4 hours which was a perfect amount of time.
Spring Highlights:
Hiking Trails
Waterfalls
Natural Lazy River
Scuba Diving & Swimming
Tubing & Paddling
For the most up to date information and fees check out the official site.
Three Sisters Springs, Crystal River
There are 70 springs feeding the Crystal River, but the one I highly recommend checking out is Three Sisters Springs. If you're looking for some manatee encounters, this is one of the best springs to check out during the winter months. With boardwalk trails, observation decks and hundreds of manatees, Three Sisters Springs is a unique experience in a beautiful setting.
There are so many fun things to do in the Crystal River area, it's worth visiting for the entire day. Try out some swimming, kayaking, hiking, fishing, scalloping and tasty local seafood during your visit.
Spring Highlights:
Manatee Refuge in the Winter
Boardwalk Trails
Swimming & Paddling
Tasty Local Seafood
For the most up to date information and fees check out the official site.
Weeki Wachee River & Springs, Spring Hill
Weeki Wachee Springs and River has been welcoming visitors for over 75 years. With live mermaid shows, a waterpark, boat tours and miles of crystal-clear river to explore, it's one of the most recognised natural springs in Central Florida. There are two main areas you can explore.
Weeki Wachee Springs State Park
There is a fee to enter Weeki Wachee Springs State Park, and once inside, visitors can watch the live mermaid shows, have fun on the water slides at Buccaneer Bay, relax or swim in the spring waters, take a river cruise or book a kayak/paddle down the Weeki Wachee River.
Kayaking Weeki Wachee Springs State Park
You don't need to buy a ticket for Weeki Wachee Springs State Park to enjoy an easy 2.8-mile run downstream on the river. Kayak and paddleboard rentals are available from Weeki Fresh Water Adventures. The numbers are controlled, so you must choose a time slot, but you can enjoy the river for 2 hours. There is also a shuttle pick-up at the end, bringing you back to the starting point. Paddling this section, I saw so much wildlife in some of the most crystal-clear waters. The current does pull you along quickly, so slowing your vessel down is a must.
Weeki Wachee River
The Weeki Wachee River stretches 12 miles from the spring vent all the way to the Gulf of Mexico. Aside from the section within the state park, river access is open to the public. If you wish to explore the river, you can launch your own vessel, book a clear kayaking tour or rent a vessel. Each of these allows you to tour the river however you'd like. Rogers Park is a popular launch area, and it also has picnic and beach areas to enjoy. On the river, don't miss Hospital Hole. It's a hotspot for wildlife, especially manatees, and is close to Rogers Park along the river. If you're looking for a place to grab a bite, Upper Deck is a great local restaurant that offers seafood, river views and drinks.
Spring Highlights:
Paddling
River Boat Cruises
Live Mermaid Shows
Waterpark
Array of Wildlife
Natural Springs Near Orlando
Silver Springs State Park, Silver Springs
Silver Springs is one of the largest springs in the United States, and notably Florida's oldest tourist attraction. The crystal-clear springs and underwater wildlife make it perfect for glass-bottom boat and clear kayaking tours. Swimming, boating, paddleboarding, hiking, birding and camping are also popular activities at the park.
Silver Springs State Park is one of the first central Florida springs I visited, so naturally, I believe it to be one of the most beautiful. The pristine waters, the array of wildlife (including a colony of rhesus macaques), lush vegetation and the 5-mile paddle run made it a delightful spring to visit.
Spring Highlights:
Glass-Bottom Boat Tours
Swimming & Paddling
Array of Wildlife – Including Monkeys (macaques)
For the most up to date information and fees check out the official site.
Rock Springs Run State Preserve, Apopka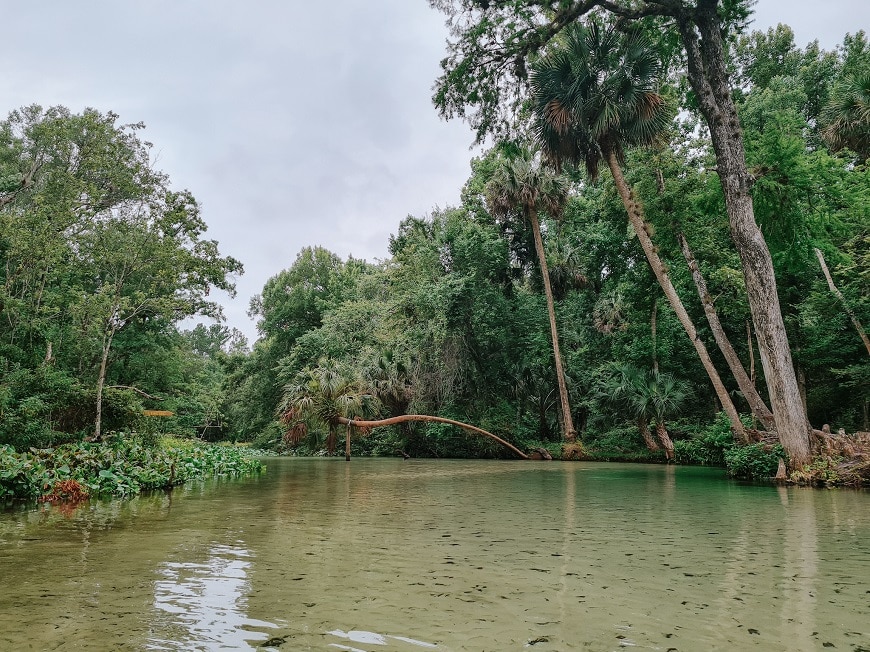 Located only 40 minutes from Orlando is a collection of beautiful springs with a host of activities to enjoy. These include Kelly Park, Kings Landing, Rock Springs Run and Wekiwa Springs. Each one blends into the other and offers a unique way to enjoy the beauty of the springs depending on how you'd like to spend your time.
Kelly Park, Apopka
Kelly Park is one of the most popular springs in the Orlando area. Many families choose this park as it's a budget-friendly day out. The park is well-equipped with picnic areas, waterfront trails, a tubing run, pavilion areas and waterfront views. Crystal-clear waters also form part of a natural lazy river, and the shallow waters make it an ideal spot for tubing on a hot summer day. Tubes are available for hire nearby, or you can bring your own. Just check the size restrictions before visiting. Tip: Arrive early! Lines for Kelly Park start forming from as early as 5 am, especially on weekends.
King's Landing, Apopka
King's Landing offers a kayak/canoe launch site directly next-door to Kelly Park. There are multiple routes to explore, such as Emerald Cut, Rock Springs Run, and Wekiva Springs. However, we rented a double kayak and reserved the shuttle run option. It includes a pick-up shuttle bus downstream at Wekiva Island. The collection time is 4 pm, with the bus bringing you back to the car park at the end of the day. You can also launch your own vessel for a fee and request the shuttle.
Shuttle Run (Rock Springs Run)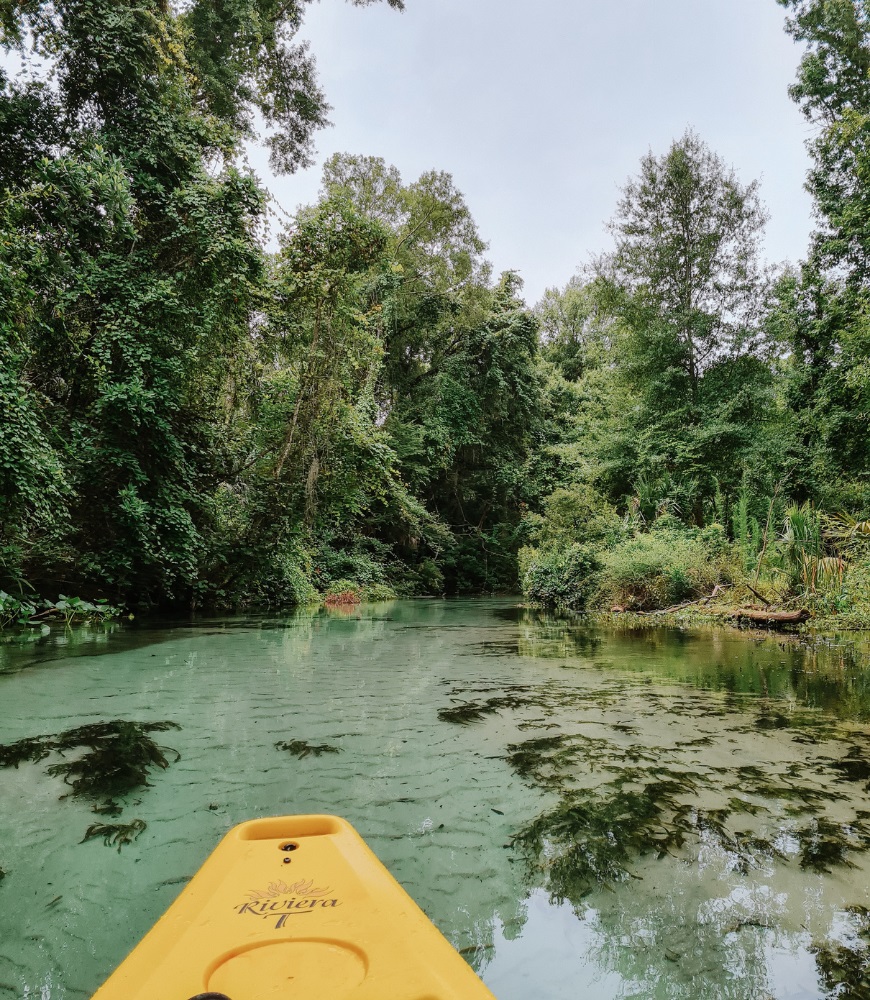 Shuttle Run is a self-guided 8.5-mile paddle from Kings Landing to Wekiva Island. If you include Emerald Cut, it becomes a 10.5-mile paddle.
Once you hit the water, you can turn right or left. We turned right so we could explore the area known as Emerald Cut. You'll be paddling upstream for around 1.5 miles until you reach the bridge, where you turn and head back. This section has some of the best swimming holes and crystal-clear water on the whole run. Trust me, it's worth the extra effort, but it's crowded and humid in summer. There are also options to explore the Emerald Cut area only.
Wekiwa Springs State Park, Apopka
After the detour, you're heading downstream the rest of the way (8.5 miles). It's a beautiful run down the Wekiva River and into the state park. The landscapes will continually change. From wide to narrow passageways, through jungle-like unspoiled forests, you're immersed in scenic nature. Also keep a lookout for otters, fish, alligators, birds, turtles, bears, and deer.
You'll end the run at Wekiva Island, where there is a dedicated dock to leave your kayak. We enjoyed a well-deserved drink overlooking the river while we waited for the shuttle to take us back at 4 pm. It was a perfect day on the water. Wekiva Island is also a great day trip and starting point for a fun day on or by the water.
There is also an option to leave from Sanford and paddle down the Wekiva River on a 16-mile-long run. The guided tour also includes a shuttle at the end to return to the launch point.
Spring Highlights:
Natural Lazy River with Varied Wildlife
Short & Long Paddle Runs
Closest to Orlando
Tubing, Paddling & Swimming
Blue Springs State Park, Orange City 
Located on the St John's River, Blue Springs is another spring known for its manatee population during the winter months. There is no swimming allowed during manatee season, but the spring can be enjoyed by following the Blue Spring boardwalk trail up to the spring vent. There are also several alternative trails throughout the park to enjoy.
Some additional popular activities include snorkelling, swimming, hiking, scuba diving and paddling. Canoe and kayak rentals are available at the park, along with guided riverboat cruises. There are also tours available from Orlando, making this a fun day trip. The Thursby House, built in 1872, is open to park visitors and details the history of the area and the spring. A network of underwater caves also attracts experienced divers near the headspring. Read more about Blue Spring State Park in my guide.
Spring Highlights:
Cave Diving
Manatee Refuge in Winter
Hiking Trails
Historical Home
For the most up to date information and fees check out the official site.
Map – Central Florida Springs Near Me
Central Florida Springs FAQ's
– What temperature are the springs?
The average temperature of Central Florida Springs is between 70°F and 75°F (21-24°C).
– Which springs are the best to see the manatees?
Blue Springs and Three Sisters Springs (Crystal River in general). During the winter months is best.
– Are there alligators, and is it safe to swim?
This is Florida so there is a high chance you will see an alligator. But most avoid crowded springs and larger alligators are often relocated away from popular areas. If there are 'No Swim' signs showing, please take note and do not get into the water.
– Which springs allow dogs or pets?
Rainbow Springs, Blue Springs, Silver Springs, Wekiwa Springs, Alexandra Springs and Emerald Cut run allow dogs with restrictions. But please double check each location for their current rules.
IMPORTANT: Leave no trace behind while you enjoy the beauty of the Florida Springs. Dispose of any trash and any other trash you may find along the way. Respecting the environment and wildlife ensures these pristine areas remain for others to enjoy for years to come.
With so many springs to visit in Central Florida my wish list is never empty. Below are the springs I'm hoping to go to next. I'll also update this guide as I go:
De Leon Springs
Alexander Springs
Juniper Springs
Silver Glen Springs
Thanks so much for reading. I hope this guide has inspired you to visit or discover some new springs in Central Florida during your next visit. Do you have a favourite spring, or one you think I should head to next? Let me know in the comments below or find me on Instagram.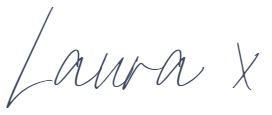 If you enjoyed reading don't forget to save and share!