The South West region of France is one of the most picturesque places I've ever visited. It is brimming with pretty charming villages, fields of flowers, rolling vineyards and impressive natural sights. This is great, but it can make choosing the right place to visit a bit of a challenge. So I've rounded up my favourite 7 beautiful fairytale villages in the South of France you need to check out during your next trip.
These pretty villages offer something for everyone from history, art, wine tasting, outdoor activities and delicious food. They are close to the city of Toulouse, the hub of the region, making them an ideal day trip or extended break.
Cordes‑sur‑Ciel
How far is Cordes-sur-Ciel from Toulouse? 82km (51 miles) approx. 65 minutes by car
First up is Cordes‑Sur‑Ciel, a medieval village built high on top of a hill overlooking the rolling landscape below. I was blown away at how picture-perfect this French village was, it simply oozes charm at every turn.
We drove here from Toulouse, but there are day trip tours running from Toulouse to Cordes‑Sur‑Ciel that also include a visit to Albi (the next beautiful town on this list).
We chose to explore this village on foot as it's pretty small. It is a fairly steep climb to the top, but we wanted to do some exploring of our own through the winding quaint streets. In the summer months, a little tourist train is in operation and takes visitors up to the top. At 3€ per adult, it is inexpensive. It also has an audio tour included, and as you make the climb it details the history of the village and its surroundings.
There are also a lot of restaurants, boutique shops, local art and museums to explore. A local treat is the 'Croquant de Cordes' an almond and meringue biscuit famous in the area. Some places offer a free one with your coffee order so don't be afraid to ask for one if it is missing. So if you're looking for a village to wander and soak up the atmosphere with incredible views this is the one for you.
For the latest local and visitor information, you can check out their tourism site.
Photo tips: 1. Arrive early morning and head to the hill opposite the town. Clouds linger and cover the valley below making it look like the town is floating in the sky. It's a great sight and where the village gets its name (literally translates to Ropes in the Sky) 2. If you're looking to shoot some Instagram content this village will deliver. 3. If you visit during autumn/fall the colours make this village even more pretty, which I didn't think was possible.
Albi
How far is Albi from Toulouse? 77km (48 miles) approx. 50 minutes by car
Albi is a small but impressive town with a dark history. It was classified as a UNESCO World Heritage Site in 2010 and is often referred to as the 'Episcopal City'. We drove to Albi from Toulouse, but there are several trains running all day between the two cities and guided tour options.
The centre isn't too big so exploring on foot is a good option to soak up all the atmosphere, architecture and history the area has to offer. It has an imposing fortress like cathedral, the Sainte‑Cécile, that towers over the riverbank and is a must visit in my opinion. It's free to enter and visitors can learn about its grim turbulent past and the reasons behind its unique design. The interior is lavishly decorated with a lot of sculptures, art, stained glass windows and big bright frescos. It has the wow factor!
The second most popular reason people visit Albi is to check out the Henri de Toulouse-Lautrec museum. The artist was born in Albi and most famous for the 31 posters he designed for the Moulin Rouge. It also boasts some perfectly groomed gardens, these alone are worth the entry fee. So, if you're looking for a combination of history and arts, Albi is the fairy-tale village in the south of France for you.
For the latest local and visitor information, you can check out their tourism site.
Travel Tip: Pay the 5€ extra fee to visit the choir in the cathedral as it's worth it.
Carcassonne
How far is Carcassonne from Toulouse? 95km (59 miles) approx. 65 minutes by car
If some fairytale medieval magic is what you're looking for then the fortified Cité de Carcassonne is a dream, and likely the most well‑known villages on this France list. Take a trip back in time by strolling through this medieval fortress, which is also a UNESCO world heritage site. Sip a glass of wine while taking in the vineyard views from Hotel de la Cité or dine at one of the many restaurants located within the citadel. Guided tours and shows are also offered inside, as is a tourist information office. One popular ticket called 'skip-the-line' includes entrance into the museum and ramparts, as well as front of the queue access, which is useful during busy days. There is a reason Carcassonne is a popular place to visit, it is simply magical. I still find it mind-boggling yet so impressive at just how old this place is.

If arriving by train from Toulouse Matabiau station you'll exit into the town of Carcassonne, not be confused with the medieval city mentioned above. The town is located in the valley below, so don't forget to explore its charm when you visit too as it's worth it. There are also a number of wine producers in the local area offering wine tasting experiences in the town.
For the latest local and visitor information, you can check out their tourism site.
Travel tip: Each year in July is the 'Festival de Carcassonne'. Check out the programme and grab some tickets in advance to experience an event inside a medieval city – unique venue alert! Entertainment ranges from big name artists to dance, opera and theatre performances.
Saint Antonin Noble Val
How far is Saint Antonin Noble Val from Toulouse? 93km (58 miles) approx. 80 minutes by car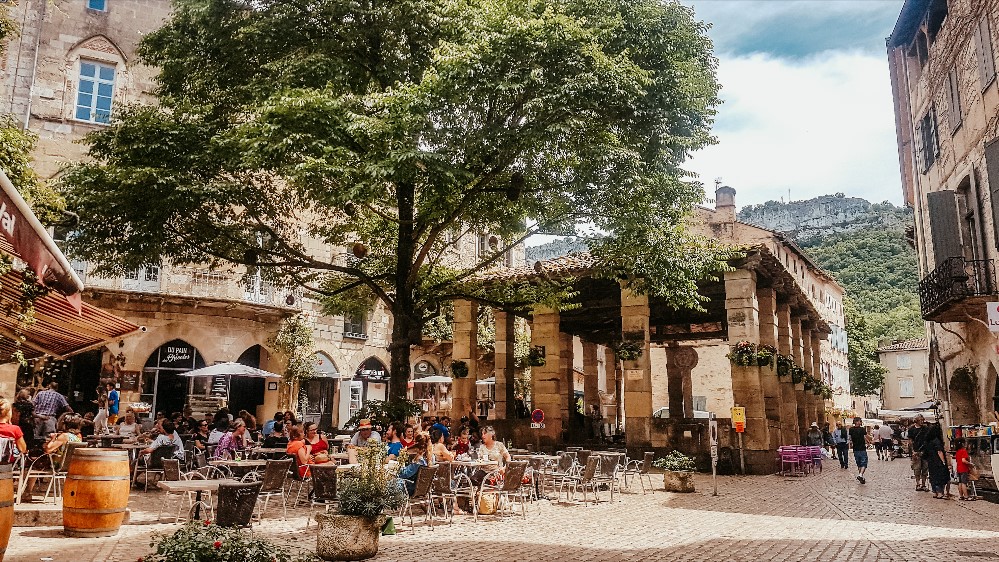 Of all the fairytale villages in France, Saint Antonin Noble Val looks and feels like it has jumped straight out of a novel. The narrow-cobbled streets, boutique shops and cafés are quintessentially all things French. Just wandering around or sitting in one of the many outdoor cafés or restaurants is an absolute treat. It's located in a gorge too so there are several outdoor activities to try out. Surrounded by stunning scenery you can choose to go biking, hiking, swimming and kayaking. But, if you're in the mood to relax why not grab a picnic and head down to the river to admire those on the water and the beautiful imposing landscape. This is the village for you if you're looking to combine adventure with some pretty picturesque streets.
For the latest local and visitor information, you can check out their tourism site.
Travel tip: For an overall French culture experience visit the Sunday market in the centre of town. It takes place every week and it's the perfect place to stock up on supplies for a picnic too.
Rocamadour
How far is Rocamadour from Toulouse? 165km (102 miles) approx. 120 minutes by car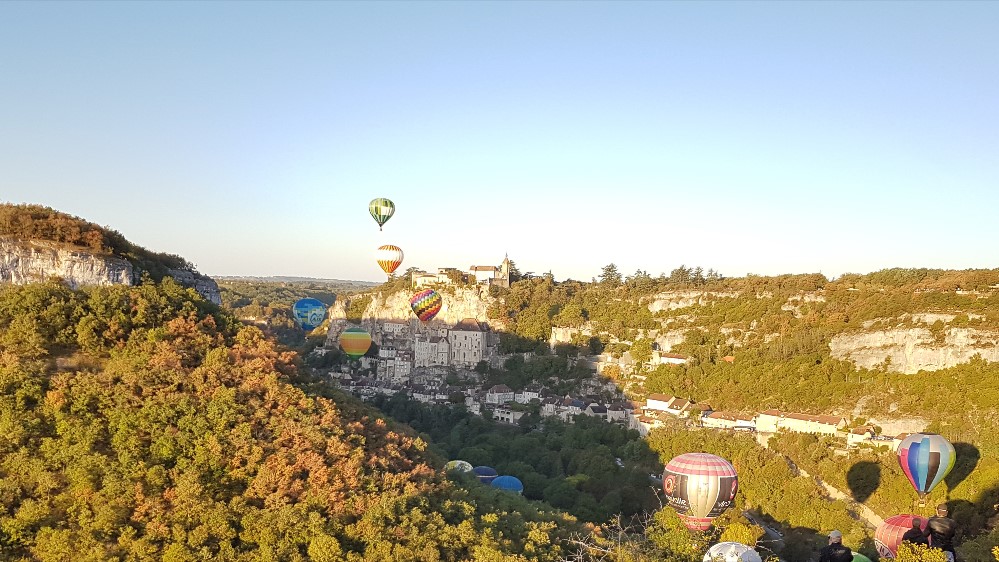 Rocamadour is a medieval village impressively built into a cliffside. It literally looks like the village is part of the rockface and it overlooks the beautiful Alzou canyon. There's one main street that snakes up and through the village. You'll find yourself constantly gazing up at all of the buildings and cliffs above, and wondering how on earth they stay in place.
Many visitors make the trip here as it's a significant stop on the pilgrimage route. It's home to religious buildings and the sanctuary for the Black Madonna. A small funicular/elevator built into the side of the rock carries passengers up there. But you can walk up the great staircase and make the climb yourself, the option I highly recommend doing. Even if you're not religious the architecture and landscape is something to be admired and unlike anything I've encountered before. Just walking around and seeing these buildings first-hand is quite something.
We also stopped for lunch at a restaurant that had stellar views overlooking the canyon below. Many on the main street have patios and courtyards through the back of their restaurants that offer these amazing views so be on the lookout for one, you won't be disappointed.
Gouffre de Padirac
Around 10 miles from Rocamadour is the Padirac Cave and underground river system (Gouffre de Padirac). As one of the largest chasms in Europe I really recommend stopping by here too. It is accessed through a giant sinkhole right next to the visitor centre, and let me tell you it's huge. Once inside there is a network of stairs and lifts leading visitors deep down into the natural cave system. We explored and learnt about this geological wonder by taking a boat ride through the various sections of the caves and walking along the trails, very cool. However, you do need to purchase tickets to enter and there are a few options available.
For the latest local and visitor information, you can check out their tourism site.
Travel tips: Visit during the Hot Air Balloon Festival (Les Montgolfiades) during the last weekend of September. It's such a unique experience watching the balloons take flight at sunrise. Also, try out the towns famous goat cheese, it's known all over France.
Fronton & Gaillac
How far is Fronton from Toulouse? 33km (20miles) approx. 35 minutes by car
How far is Gaillac from Toulouse? 58km (36miles) approx. 40 minutes by car
The southwest region has two quaint fairytale villages that are perfect for trying out regional wines known all over France – Fronton and Gaillac. Each town hosts their own wine festivals every summer (hurrah) and they're 100% worth checking out. All you have to do is buy a tasting glass and visit the different producers and sample the local wine as you go. But don't worry, if you're visiting outside of the summer months you can go to some wine producers directly for your own wine experience. Or, if you're visiting Gaillac book a tasting at La Maison des Vins and choose one of the options they offer up. There are frequent trains running from Toulouse which means leaving the car behind is easy.
Gaillac also hosts an impressive Chinese Lantern Festival during the winter months. The main park in the town transforms into a beautiful spectacle of light with structures and light shows showcasing Chinese culture. Most definitely something unique to see during a visit.
Travel Tip: Make sure you bring some muscles or a trolley with you so you can get all of your wine purchases back to the car. Trust me, you'll take a few home or back to your hotel to enjoy.
Fairytale Villages and Towns in Southern France – Map
---
Thanks for reading, I hope this has been a useful guide to 7 real life fairytale villages in the South of France. Do you know of or recommend some more places that should make it onto this list? Let me know in the comments below or find me on Instagram.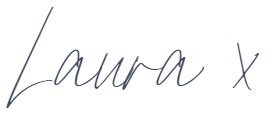 If you enjoyed reading don't forget to save and share!
---
Booking a trip to Toulouse? Check out my Gluten Free Guide to Toulouse to continue planning the perfect break in the South of France.